Big Easy Fences: Selecting The Best Residential Patio Cover in New Orleans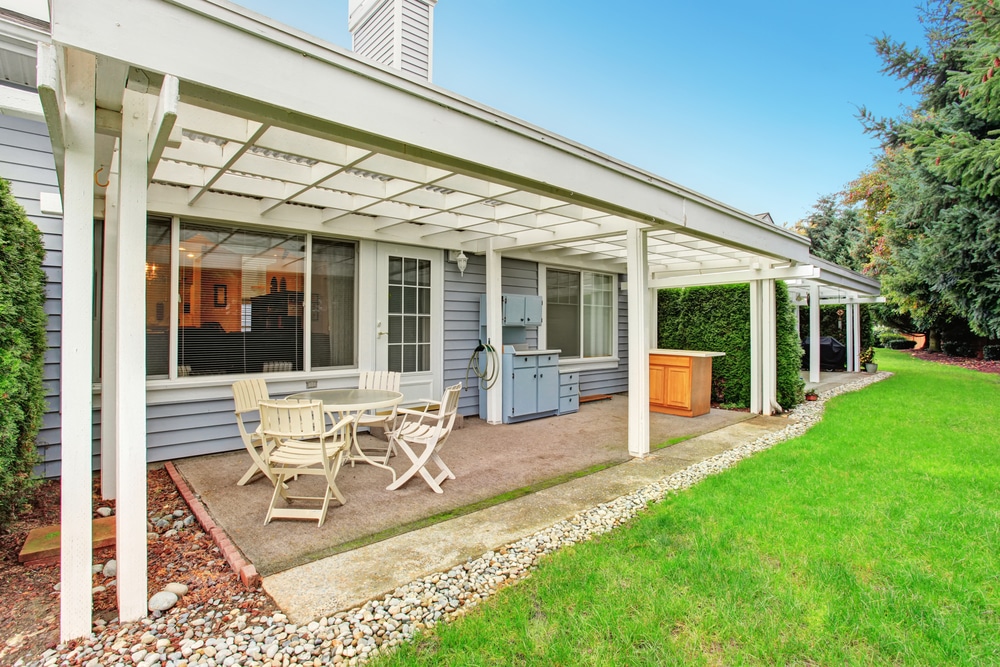 Are you ready to build a patio cover for your backyard property? You may have a patio that is extremely hot and uncomfortable during the summer months. The size of your patio, and the height of the patio cover that you will want to build, can be preplanned so it can be constructed rapidly. 
There are certain tools and items that you will need to get this project done. Although you might be able to buy a patio cover kit, these can be very expensive. Hiring a contractor would also cost a substantial amount of money. 
That's why you may want to consider building one on your own. It is recommended that you work with at least one other person to help you. Sliding and positioning the different components is always better with two. 
Patio covers are slightly different than other similar covers including pergolas. Let's go over the differences, and then discuss how you can build the best patio cover for your patio.
What Is The Main Purpose Of A Patio Cover
Patio covers are often confused with pergolas. That is because they do provide a very similar purpose. A pergola is designed as a separate unit, while a patio cover is specifically designed to complement and conform with your patio's design.
These are often placed out in the backyard in a strategic location to enhance your outdoor space. A pergola is not attached to your home. However, a patio cover is constructed in very similar ways, you are going to build one that will conform with your patio. 
This is true whether your patio is square, rectangular, or a similar shape. Once it is erected, it will provide shade for people that will be out on the patio. That is the main purpose of a patio cover, yet you can also build them to improve the way that your backyard looks.
Are Wood Patio Covers Difficult To Build?
Patio covers are sometimes easier to build than a pergola. That is because they are going to connect to the house itself. You will have the ability to build out from your home. Instead of having to set multiple posts into the ground, you will only have a few that you will have to set and the rest of the patio cover can be connected to your house. 
These will always be hard to build if you are doing this alone. This is very true if they are large or lengthy in size. The lumber that you must purchase, and all of the tools that you will need, will now be presented.
Materials And Tools You Will Need To Build A Wood Patio Cover
Building a patio cover will require several 4 x 4 pressure-treated beams that are at least 8 feet in length. You also need the lumber for the upper structure. 
This may include 2 x 8, 2 x 4, and an additional 4 x 4 boards for the top. You will also need plywood that will go on top of the structure. On top of the plywood, you will apply tarpaper and roofing material.
You may even want to put a gutter system on the lower edge of the patio cover roof. This can be connected to downspouts if you want to make it perfect. It is likely that you will need concrete. 
The only time you will not is if you are bolting the 4 x 4 pressure-treated beams using brackets at the base. This will also require you to have hammers, nails, screws, and power tools including skill saw to make the necessary cuts.
How Do You Construct One?
The first step of this process is getting the support beams in place. These are the 4 x 4 beams that will be vertical. As mentioned before, they will either be connected directly to the concrete or you will have to dig holes and cement them in. 
The roof of the patio cover needs to slope down. The upper edge of the patio cover will be flush with the edge of the bottom of the roof. 
This is what will allow you to direct rainwater to the bottom which can subsequently runoff or flow directly into your gutters. It is vitally important, at either end of this structure, that you have angled 4 x 4 beams that provide extra support. 
These will be angled so that they can fit flush with the vertical and horizontal pressure-treated beams.
Doing so will ensure that it will not collapse. If you are going to paint this, you do not have to worry about the beams before you erect them. 
Otherwise, you may want to consider staining the beams as it may match the exterior of your home. It is highly recommended that you have shingles that match the ones that are currently in your house. However, if they don't match, it is likely that no one will even notice.
How Long Will It Take To Construct Patio Courtyard?
This type of construction project, when you are working with a couple of different people, can take a single day. There are limited amounts of lumber needed, and minimal cuts that must be made, in order to get the frame of the patio cover done. 
The most time-consuming part of this process is waiting for the cement to cure. You may have to wait overnight before you begin construction. Once that is done, the construction of the structure, and also putting on the roof, can be done in a matter of hours.
If you have wanted to add a patio cover over your patio for years, but have not done so, you can now see how easy this is to do. By gathering the supplies and tools that have been referenced, you will have everything that you will need to get the job done. 
Make sure that you have cement, a cement mixer, shovels, and trowels to spread the cement. You should also have a level so that you can make sure that your patio cover roof is that the right angle. 
Other than that, you will have everything that you will need to construct a patio cover that will be extremely sturdy, providing durability, and will last for years.
While it is possible to do the installation on your own, using professionals like Big Easy Fence helps you save money, get high-quality materials and excellent results in a short span of time. We repair residential fences. Get in touch today!
Testimonial
Dasvera Dilipo – ⭐⭐⭐⭐⭐
Professional fencing company in New Orleans, and they blew me away. They took the time to ask about what we want rather than shoving unnecessary things just to charge us more. When they started the job, they always came on time and cleaned up after a day's work. Impressive work and output at the end. Big Easy Fences has very satisfied and happy customers right here!