A Simple Way To Improve Your Home's Curb Appeal And Value-Madisonville Wood Fences
Big Easy Fences is a professional wood fence contractor in the Greater Madisonville area. We have a variety of wood fences to choose from, including cedar, cypress, pine, and more. Our wood fences are all pressure treated and guaranteed against rot and termites.
Our fence quality installation is fast, efficient, and affordable. We are the professionals for all of your project fencing needs.
Call us at (504) 565-2547 to learn more!
How To Choose The Right Fence For Your Home Or Business-Madisonville Wood Fences
There are a number of factors to consider when choosing which fence is right for your home or business property.
Do you want just a privacy barrier?
Would you like something that offers security as well?
Do you need the fence for more than just decoration?
If so, then you'll need to consider the types of materials that are available, and go from there. It is also important to consider how much space you have when making your decision.
Wood fences provide a natural beauty that not many other options can rival. They come in a variety of styles and designs, each one more beautiful than the last.
Types of Wood Fences
Spruce
One of the most common types of wood fences is spruce. It comes in three varieties: board-on-board, picket, and privacy.
Board-on-Board Spruce Fence – The board-on-board variety is composed of vertical boards with spaces between them to allow airflow for proper drying.
Picket Spruce Fence – The picket variety has horizontal boards on top of vertical ones.
Privacy Spruce Fence – This is the more modern form of fence with a slatted design that prevents anyone from seeing through it while still allowing airflow.
Pine
Pine is a great budget-friendly option for those who don't want to splurge on cedar or cypress. While not as durable, it is an attractive and affordable choice that won't be easily broken by the elements.
Fir
Fir is a great choice for those who want a durable wood that will last through the harshest of conditions. White fir is more expensive than pine, it requires minimal maintenance and can be used in all kinds of applications.
White Oak
White oak is another choice with plenty of benefits. It has a rich, traditional appeal that most people are looking for in their wood fencing, but it is also more durable than pine.
Best Types Of Wood For Fencing
Redwood
Redwood is a beautiful choice for those who want an all-natural look that won't discolor or fade quickly. It can be stained or painted, and it will last for decades with proper care.
Cedar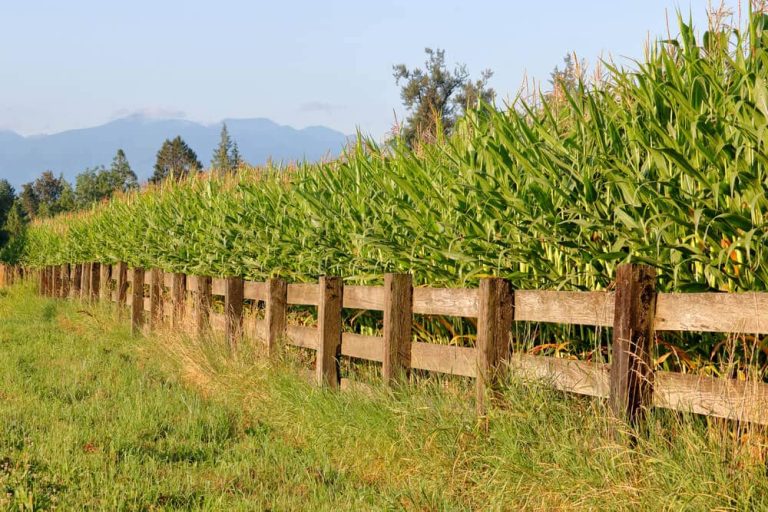 The most beautiful type of wood for yards in the south isn't actually a southern tree at all. Cedars are one of the most popular types of wood for fencing because they are resistant to rot, insects, and other foes.
The only complaint people have about cedar is its appearance: it can fade if not stained or treated, and it does require some upkeep over time.
Cypress
Cypress is incredibly strong and durable, making it highly sought-after for fencing. It is also resistant to harsh weather conditions like heat, ice, wind, hurricanes, and more. Cypress wood can even stand up to termites!
How Long Do Wood Fences Last?
Wood fences will last a long time, but there are many variables that affect how long it takes for them to show signs of age. Proper installation, materials used, and weather conditions can all affect this.
However, with proper care and maintenance, most wood fences will last approximately 20 years before they require major repairs or replacing.
Benefits Of Wood Fences
They will provide a great natural barrier that protects your yard from harsh weather and other environmental factors.
Wood fences look beautiful on any residence or business, no matter how big or small. They have an elegance that other fencing materials can't compete with.
And since wood is a natural material, it will provide ample shade for you and your family or employees.
Affordable Wood Fences Designs In Madisonville
Big Easy Fences are experts in wood fences. We have years of experience working with the most durable and beautiful types of fencing materials.
Contact us today to learn how our affordable rates can allow you to get an incredible look for less. Schedule your free consultation, and find out why we're Madisonville's best choice for styles of wood fences.